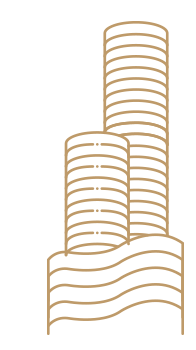 Real Estate
Indian real estate sector is rapidly evolving so as the legal and regulatory challenges associated with the sector. As a result, real estate deal structuring became more and more complex and challenging. Our real estate team has sophisticated skills in real estate transaction structuring and execution. We advise our clients on complex and high-stake real estate transaction everywhere in India. Our presence across the nation provides a unique advantage in understanding the complexities of real estate transactions in every part of the country.
We are involved in complex real estate transaction for diverse spectrum of clientele such as landowners, developers, investors, corporates, HNIs, financial institutions etc. We advise on joint development projects, condominiums, commercial projects, integrated townships, special economic zones, industrial parks, re-development projects, slum rehabilitation projects and various other real estate projects.
Overview
The Real Estate Practice area includes;
Title Investigation
Joint Development Agreement, Consortium Agreement
Real Estate Investment Transactions
Conveyancing, Leasing, Licensing
Assistance with registration of documents with the Sub Registrar
Handling registration of Co – operative Societies/ Condominium;
Deemed Conveyance
Advice and assistance in redevelopment under various regulations of the Development Control and Promotion Regulations and the Unified Development Control Regulations (in Maharashtra) including but not limited to Slum Redevelopment, MHADA Redevelopment, Repair Cess Property Redevelopment and Co – operative Housing Society Redevelopment.
Legal and regulatory approvals, SEZ approvals, land conversion approvals etc.
Real estate financing, mortgage creation
RERA registration and compliance
Real estate dispute resolution
Services Offered
Title Investigation:
We handle title Investigation of properties across India. The task of title Investigation inter alia includes perusal of title documents of the property and perusal of revenue/ municipal records to ascertain title thereto. The title may be in the form of ownership rights and/or leasehold rights and /or development rights. The team carries out extensive searches with the offices of the Sub Registrar of Assurances and Registrar of Companies (if a corporate entity is involved) to substantiate the investigation. Litigation search is also carried out, if required. Public Notices are also issued at the behest of the Client, if required
Transactional Support
We have extensive experience in real estate deal structuring. We advise clients on structing the transaction from a legal and regulatory perspective considering the commercial aspects of the transaction. We also help our client with drafting and negotiating transactional documents such as joint development agreements, shareholders agreements, consortium agreements etc.
Conveyancing and leasing
Drafting and settling of drafts which inter alia include drafts of Agreements for Sale, Sale Deeds, Lease Deeds, Leave and License Agreements, Term Sheets, Memorandum of Understanding, Letter of Intent, Facility Service Agreements, Deed of Conveyance, Deed of Declaration, Deed of Apartment.
Assistance with registration of documents with the Sub Registrar
Collating all documents required for registration, assistance in getting Stamp duty and registration fees calculated, assistance in making online payment of Stamp Duty and registration fees, assistance with the actual registration at the office of the Sub Registrar.
Handling registration of Cooperative Societies/ Condominium
In case of Cooperative Society formation our work inter ala includes, making name reservation application on behalf of proposed Society in case of noncooperation from the Developer, attending hearings before the Competent Authority and getting the Society registered.
In case of a Condominium, we provide our service in drafting Deed of Declaration, Condominium Bye Laws and Deeds of Apartment and get the same registered with the Sub Registrar of Assurances. Sending intimation to the office of the Registrar Co-operative societies in behalf thereof.
Deemed Conveyance:
Assist in enrolment of the Co-operative Society, apply for deemed conveyance with the Competent Authority, attend hearings in relation thereto and get the plot conveyed to the Co-operative Society.
Real Estate Financing
We advise banks and financial institutions in transactions involving real estate financing. We handle drafting and execution of finance documents, security documents and mortgage documents. We also carry out title due diligence of properties and mortgage creation across India.
Foreign Investment in Real Estate
We advise foreign corporate, funds, Indian investee companies and HNIs on sale and purchase of real estate from FEMA perspective. We also advise foreign investment in integrated township and infrastructure projects.
RERA
We advise on RERA registration of projects and RERA compliance. We also handle RERA related disputes with the RERA Regulatory Authorities and Appellate Authorities.
Expertise & Experience
Our client list in the real estate sector ranges from large-scale real estate developers, infrastructure developers, developers, corporate houses to banks and NBFCs. Please find below illustrative list of our clients with whom we have been working for years:
I. Real Estate Developers
We represent major real estate developers in real estate acquisition, title due diligence, deal structuring, project documentation, etc. across the country. We advise top reality companies in India for acquisition of land for residential and commercial projects; drafting of development agreement, obtaining various approval from regulatory authorities for such projects; providing legal advice in raising investment for such projects, RERA registration and compliances, society registration etc.
II. Real Estate Funds
We advise real estate funds and investor on their investment transaction on real estate project in India. Our service includes structuring of the transaction, drafting of transaction documents like investment agreement, joint venture agreement etc.
III. Landowners
We advise landowners in joint development projects. Our service includes structing of the transaction, drafting of agreements, etc.
III. Corporate Houses
We extensively advise corporate houses for acquisition of commercial real estate, retails spaces, offices etc. We also have expertise in acquisition of real estate and obtaining approvals for hotels, restaurant chains, hospitals, warehouses etc. across the country. We also advise infra and power companies on large scale land acquisition for infrastructure projects like roads, power etc.
IV. Banks and NBFCs
We represent various banks and financial institutions in project finance and security documentation. In relation thereto, we have conducted title due diligence of thousands of acres of lands on PAN India level and created security in favor of banks and NBFCs.
V. Residential and Commercial Building Society We advise Residential and Commercial Building Societies on Cooperative Society Act, Bye Laws, Redevelopment etc. We also handle society-related litigations.
---
A bird's-eye view of the economy backed by experience in real estate law and its practises, INDIALALAW has the raw materials crucial for matters of land. From advising on real estate ventures to the acquisition of property, we assist developer conglomerates and banks, high net worth individuals as well property funds. Our portfolio includes:
Land Acquisitions & Approvals | Project Development and Redevelopment | Private Equity and Investment In Real Estate | Real Estate Joint Ventures | Title Search & Due Diligence | Documentation & Registration | Mortgage | Mortgage Loan Auditing |
---