Injunctions Under Civil Laws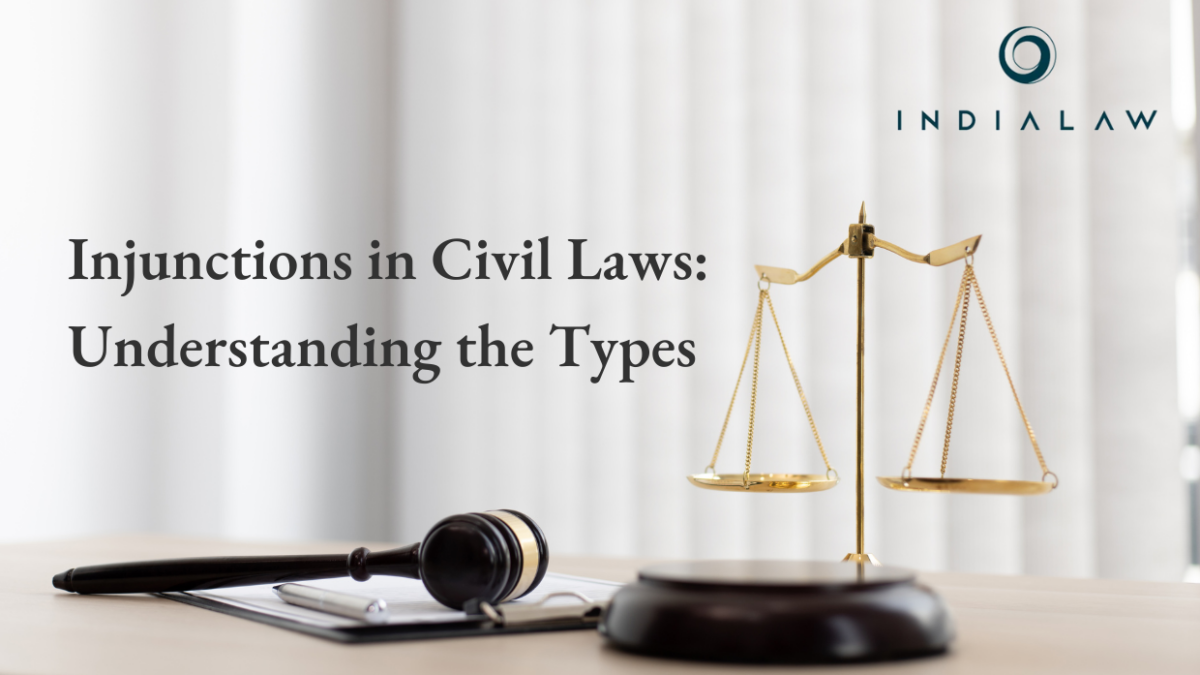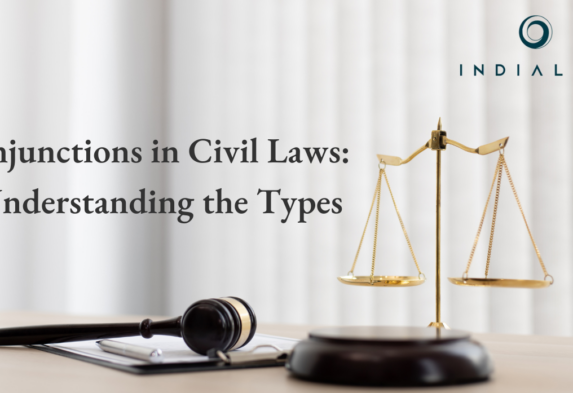 An Injunction is understood as an order issued by a Court to a party, mandating them to either perform or abstain from performing a specific action, with the aim of ensuring the administration of justice. It is considered to be one of the most important remedies in civil litigation and noncompliance may result in legal repercussions, such as criminal or civil penalties, or even contempt of court.
Table of Contents
Scope Of An Injunction And When Is It Invoked
In Morgan Stanley v. Kartick Das[1] the Supreme Court ruled that the courts should not grant ex-parte ad-interim relief without the party's consent. Thus, one must notify the opposing party of an interim injunction. Another injunction is sometimes obtained to maintain the status quo in scenarios where additional actions of the designated nature, or the omission to execute such actions, would result in irreversible damage to one of the involved parties.
The filing of an injunction application is prevalent when there is a likelihood of irreparable damage.  The concept of irreparable injury refers to a situation in which it has been demonstrated that the damage suffered by the petitioner cannot be remedied through any other means. In M. Gurudas and Ors[2], the court ruled that it would evaluate an application for an injunction on the basis of three factors:
i) the case's prima facie legality; ii) the balance of convenience; iii) irreparable harm.
Types Of Injunctions
A temporary injunction is a legal remedy that temporarily restrains a party from performing a specified act. This type of injunction can be granted until the disposal of the suit or until the court issues a further order. The grant of an injunction is subject to the provisions of Order 39, Section 94 (c) and (e) of the Code of Civil Procedure 1908& Section 37(1) of the Specific Relief Act 1963 and may be awarded at any juncture of the legal proceedings.
As per the case of Agricultural Produce Market Committee Vs. Girdharbhai R. Chhaniyara[3], the Supreme Court determined that temporary injunctions may only be issued if the petitioner possesses a definitive right that is capable of being enforced through injunctive relief.
This is commonly referred to as interim injunction and falls within the category of temporary injunction. It remains in effect for the duration of the legal proceedings before the court. Consequently, an interlocutory injunction possesses the ability to either mandate or prohibit a party from engaging in specific actions while awaiting the ultimate resolution of the case. The principal objective of utilising an interlocutory injunction is to maintain the existing matters in the status quo.
The courts take into account the following factors when determining whether to grant or deny an interim injunction:
The petitioner has successfully established a prima facie case
The balance of convenience is in their favour.
Moreover, the petitioner would incur irreparable injury if their request is not granted.
In the case of Wander v. Antox India[4]the courts have established that the request for an interlocutory injunction is typically made during a stage where the plaintiff's legal right and its purported infringement are both disputed and uncertain. These uncertainties persist until they are proven through evidence during the trial.
A plaintiff may be granted a preliminary injunction, also referred to as an ad-interim injunction, prior to a trial. This type of ad-interim injunction, is a legal remedy that aims to maintain the status quo of the subject matter in question, thereby preventing any potential infringement of the plaintiff's rights and enabling them to seek prompt relief. A preliminary injunction is granted at the outset of a legal proceeding to preserve the existing status quo until a final determination can be rendered. The purpose of its design is to safeguard the entitlements of the concerned parties until the resolution of the case.
A permanent injunction, popularly referred to as perpetual injunction, can be granted by the court by passing a decree made after hearing and upon the merits of the case. Once such decree is passed, the defendant is permanently prohibited from the assertion of a right, or from the commission of an act, which would be contrary to the rights of the plaintiff . The legal provision for perpetual injunctions is not encompassed within the Code of Civil Procedure 1908 but rather falls under the purview of the Specific Relief Act of 1963[Section 37(2),38].
In legal proceedings, the issuance of a decree by a judge that permanently restrains an individual is typically accompanied by the pursuit of a perpetual injunction. The supreme court laid down the rule of when a permanent injunction cannot be granted in K Venkata Rao vs Sunkara Venkata Rao[5]It held that "a permanent injunction cannot be granted when alternative efficacious relief is available in any other usual mode or proceedings"[6]
This compels an individual to undertake a specific action and is mentioned in Section 39 of the Specific Relief Act.Thereare two distinct categories of mandatory injunctions, namely restorative and enforcing. The former pertains to the restoration of the status quo by compelling the defendant to undertake a specific action, while the latter involves the performance of a positive act, typically on a continuous basis.
According to Lord Upjohn in the case of Redland Bricks v Morris (1970)[7]the grant of a mandatory injunction is contingent upon the plaintiff's ability to demonstrate a high likelihood, based on factual evidence, that significant harm will be inflicted upon them in the future. The exercise of jurisdiction should be done with restraint and careful consideration, but when appropriate, it should be done without hesitation.
This is governed under Section 38 of the Specific Relief Act and is commonly referred to as a restrictive injunction, which is a legal directive that mandates an individual or organisation to abstain from performing a specific action. Mainly for the prevention of harm or infringement of rights.
A Quia Timet Injunction was first discovered in an English jurisprudence and it can be used when a Plaintiff's right hasn't been injured yet, but it is feared or threatened to be hurt. This order can be permanent or temporary, prohibitive or mandatory.  As per the court in Angela Drury v. Secretary of State for the Environment, Food, and Rural Affairs, 2004[8],  a Quia Timet injunction is given to avoid a danger or expected violation of the rights of the plaintiff. Further, there must be clear and strong proof that a real violation is likely to happen (Redland Bricks v. Morris)[9].
Lord Upjohn describes two types of Quia Timet. At first, the defendant hasn't done any damage yet, but he is threatening and planning to act in a way that will cause irreparable damage to the plaintiff or his property. In the second, the plaintiff has been compensated for the damage he has already suffered, but he claims that the actions of the defendant could lead to more lawsuits in the future.
The origin of Quia Timet Action in India can be traced back to the legal case of Mars Incorporated vs Kumar Krishna Mukherjee & Ors[10]. ("Mars Case") in the Delhi High Court. This case is a significant ruling that established the Quia Timet Action principle, subsequently affirmed by numerous High Courts.
Commonly known as a freezing order oran interlocutory ad- personam injunction, is a legal remedy that is frequently employed in instances of fraudulent activities or asset misappropriation.In the landmark judgement of Nippon Yusen Kaisha v. Karageorgis[11]and Mareva Compania Naviera S.A v. International Bulkcariers S.A[12], was when such a relief was granted for the first time. Here, there is an implementation of an asset preservation order which restricts a party from disposing of or dissipating their assets, thereby ensuring their availability to satisfy a prospective judgement.
The Mareva injunction notion is not foreign to the Indian law, and it is occasionally regarded as an attachment prior to judgement under Order XXXVIII Rule 5 of the Code of Civil Procedure, 1908 ("CPC"). The case of Mohit Bhargava v. Bharat Bhusan Bhargava[13]recognised the ability of Indian courts to issue a Mareva injunction.
Anton Piller Order is especially used in Intellectual Property cases that enables one party to gain access to the premises of another party for the purpose of searching and confiscating infringement materials and evidences. This is common practise with the aim of impeding the obliteration or displacement of vital evidence.
An example of a pre-infringement injunction which is also commonly known as John Doe order, which is used to protect the creator's IP rights in artistic works like music and movies. The John Doe order is also known as the Rolling Anton Pillar, Anton Piller, or Ashok Kumar order(under Indian Law).
As per Order 30  Rule 1 of the Code of Civil Procedure, a Plaintiff may ask the court for a John Doe order if they have good case and cause to believe that their information will be used to violate trade secrets, copyrights, trademark or any of their works will be copied for financial gain. A John Doe order may be issued by the court in accordance with Order 39 Rule 1 and 2 of the Code of Civil Procedure, 1908. The Delhi High Court issued its first"John Doe order" also known as a "Ashok Kumar order", in the case of, in the case of Taj Television Ltd. and others v. Rajan Mandal and others[14].
In changing trend and to counter the growing effects of digital piracy, the Indian Courts have lately granted "dynamic injunction" against rogue websites and URLs. This new concept of injunction aids in the fight against digital piracy and offers efficient remedies to Intellectual Property holders. Justice Pratibha Singh defined "dynamic injunction" in the matter of UTV Software Communication Ltd. and ors v. 1337x[15]. It is as"an injunction order that is not static but dynamic"[16], because of this, even if the first injunction order might only apply to one website, it will automatically extend to any mirror websites that are made.
Laws Governing Injunctions
The laws of injunctions are explicitly covered under Indian jurisprudence. The legal provisions for injunctions, including ex-parte ad interim and permanent injunctions, are outlined in Order 39 (1) and (2). Meanwhile, interim measures, which may or may not involve injunctions, are addressed in Order 38, with a particular focus on Rule 5, which pertains to the requirement for an individual to provide security. Moreover, two types of injunctions (Temporary and permanent) are explained under Section 36 of the Specific Relief Act, 1963[17]
The legal implications of violating an injunction are outlined in Rule 2-A of Order 39 and Section 94(c) of the Civil Procedure Code. According to the section, in the event of being held responsible for such violation, the individual will be subject to imprisonment in civil prison and a directive to seize and auction off their assets.
Conclusion
In recent changing times, the Indian Jurisprudence has evolved with various types of remedies for erring litigants especially in granting immediate reliefs in the form of injunctions. It will be more interesting to look forward to how effective it will be to assist the aggrieved parties.
---
[1]1994 4 SCC 225 (241-242)
[2]AIR2006 SC 3275
[3]AIR 1997 SC 2674
[4]1990 (2) ARBLR 399 SC, 1990 Supp (1) SCC 727
[5]1998 960 ALD 278
[6]Perpetual injunction when granted and when refused – District Court of … (n.d.). https://districts.ecourts.gov.in/sites/default/files/Subject%20-%
[7]1970 A.C. 652
[8][2004] EWCA Civ 200.
[9]1970 A.C. 652
[10]2003 (26) PTC 60 (Del)
[11]1975 EWCA Civ. J0522-4
[12]1975 EWCA Civ. J0623-5
[13] 2007 (3) SCJ 735
[14] 2003 F.S.R 22
[15]2019 SCC OnLine Del 8002
[16] Supra
[17]The Specific Relief Act, Act no. 47 of 1963