Framework of the Mediation Act, 2023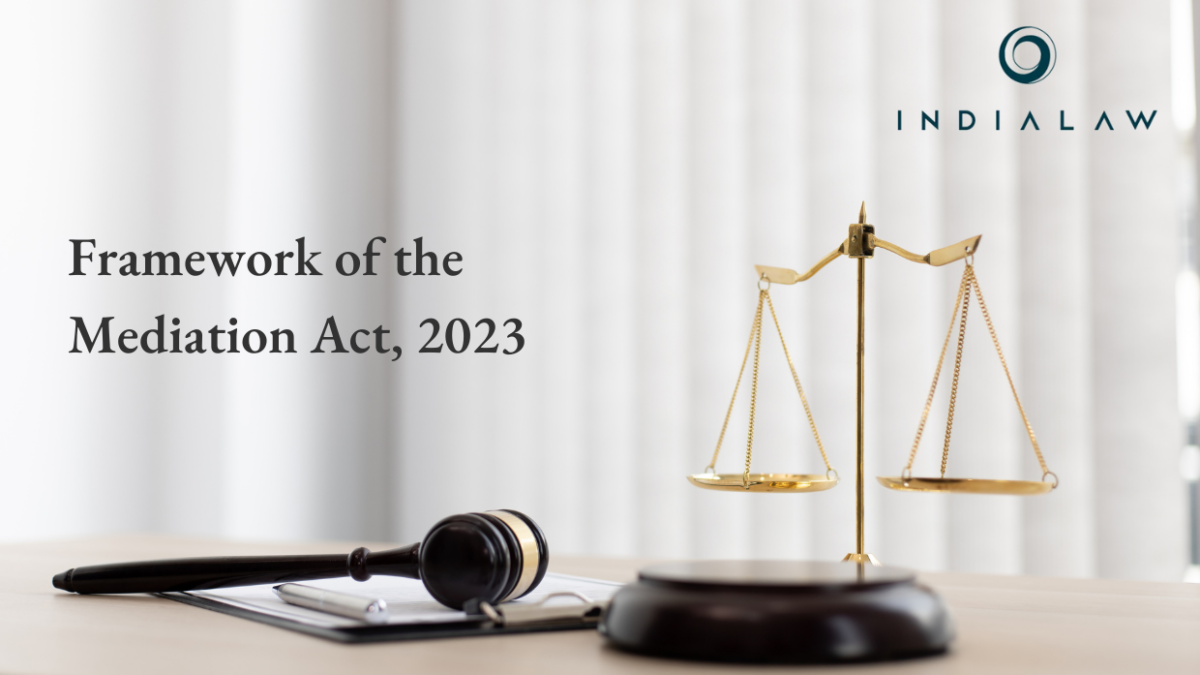 The Mediation Bill, 2023 was passed by the Rajya Sabha and the Lok Sabha on August 1 2023 and August 7 2023, respectively. Subsequently, upon receipt of the presidential assent on September 14 2023, the Mediation Bill, 2023 was enacted as the Mediation Act of 2023 ("the Act").
Quintessentially, the Act aims "to promote and facilitate mediation", thus in furtherance of its object, the Act includes within its ambit pre-litigation mediation, online mediation, community mediation, conciliation or an expression of similar import, whereby parties attempt to reach an amicable settlement of their dispute with the assistance of a third person.
Salient Features:
The Act applies to mediation proceedings conducted in India; or if all or both parties habitually reside in or are incorporated in or have their place of business in India; or when a mediation agreement provides for resolution of disputes through this Act; or international mediation for disputes that are commercial in nature wherein, one of the parties to the dispute is the Central Government or a State Government or agencies, public bodies, corporations and local bodies, including entities controlled or owned by such Government; or other notified disputes.
The Act provides for an agreement to be in writing; either contained in a clause under the contract or a separate agreement itself; or it may be contained in any document signed by the parties, exchange of communication (including electronic communication); in pleadings when existence is alleged by one party and not denied by others or a reference in any agreement containing a mediation clause. Dispute can be referred for mediation prior to or after dispute arises.
Pre-litigation mediation[3]
Before instituting a suit, parties may (voluntarily or by way of mutual consent) refer civil or commercial disputes for settlement. Requisite qualifications for a person to be appointed as a pre-litigation mediator are also laid out in the Act.
The Act provides an indicative list of disputes which cannot be referred for mediation, inter alia namely, criminal offences, proceedings initiated in relation to the misconduct of any registered professional and disputes relating to the levy and collection of any direct or indirect tax or refunds, any proceeding in relation to any subject matter which shall be, falling within any enactment, over which the National Green Tribunal Act, 2010 has jurisdiction.
Power of the court to refer parties for mediation
The Act empowers the Court to refer parties for mediation at any stage. If deemed fit, when the court or tribunal refers the parties to undertake mediation, it may pass appropriate interim order to protect the interest of any party.
Conflict of interest[5]
Prior to the commencement of mediation proceeding, a mediator shall, disclose in writing to the parties of the circumstance(s) (being personal, professional, financial, or otherwise) which may give rise to justifiable doubts as to his independence and impartiality.
Place of mediation[6]
Every mediation under this Act shall be undertaken within the territorial jurisdiction of the court or tribunal competent to adjudicate upon the dispute.
However, with consent of the parties, mediation may be conducted at any other place or online. In such a scenario, for the purpose of enforcement, challenge and registration of the mediated settlement agreement, the same shall be deemed to be undertaken within the territorial limits of the competent court or tribunal.
Commencement of Mediation[7]
Mediation is deemed to have commenced from the date a party receives notice invoking mediation under a mediation agreement. In case there is no such agreement, from the date of appointment or consent of the mediator to be appointed, whichever the case may be.
Conduct of Mediation[8]
The Act specifies and defines role of the mediator at the time of conduct of mediation. A mediator while assuming role of a facilitator, shall assist parties in an independent, neutral and unbiased manner in their attempt to reach amicable settlement of their dispute. Further, the mediator is guided by the principles of objectivity and fairness and protect the voluntariness, confidentiality and self-determination of the parties and not bound by procedural law. This would ensure more flexibility from procedural requirements and party autonomy in arriving at an amicable settlement.
Role of Mediator[9]
A mediator's role isconfined to that of a facilitator who assists in identifying issues, advancing better understanding, clarifying priorities, exploring areas of settlement and generating options in an attempt to resolve the dispute. Further, the Act restrict a mediator from giving any assurance that mediation may result in a settlement.
Time-limit to complete the process of mediation[10]
The Act lays a time limit for completion of mediation proceedings to be completed within 120 days from the date fixed for the first appearance before the mediator. Such a period is extendable for a period not exceeding 60 days, with consent of parties.
Mediated settlement agreement
Upon conclusion of mediation proceedings, settlement is arrived through a agreement in writing known as mediated settlement agreement.Terms of such an agreement may extend beyond scope of disputes referred to mediation.
Registration[12]
The Act also provides foroptional registration of mediated settlement agreement within 180 days from the date of receipt of authenticated copy of settlement agreement.
Non-settlement Report[13]
Such a report is mandated to be furnished by the mediator (duly signed) to the parties in following circumstances-
i) where no agreement is arrived at between the parties within the time prescribed; or ii) where the mediator is of the opinion that no settlement is possible.
The non-settlement report would be subject to confidentiality and the mediator shall not disclose reasons for non-settlement or any information related to the conduct of the parties during the mediation.
Finality and enforcement[14]
Mediated settlement agreement is final and bindingon the parties and persons claiming under him. As such an agreement is on an equal footing with the judgment or decree of the court, it is enforced in accordance with the Civil Procedure Code, 1908.
Challenge[15]
Agreement can be challenged within 90 days from the date of receipt of mediated settlement agreement only on all or any of the grounds namely- fraud, corruption, impersonation and where disputes cannot be referred for mediation.
Confidentiality
The Act ensures confidentialityof mediation proceedings by not permitting any audio or video recording of the mediation proceedings shall be made or maintained by the parties or the participants including mediator and mediation service provider.
Institutional Mediation under the Act
The Act establishes Mediation Council of India[16] ("MCI") with an aim inter alia to develop India to be a robust centre for domestic and international mediation. The MCI is also projected to provide for the manner to conduct mediation proceedings, recognize Mediation Service Providers, maintain an e-depository of mediated settlement agreements, maintain Mediation Fund for purposes of promotion, facilitation and encouragement of mediation. The MCI would also have the power to frame rules and regulations consistent with the provisions of the Act.
The Act recognises mediation service providers[17] and mediation institutes for functions as specified under the Act. Mediation proceedings may be conducted by a Mediation Service Provider which includes a body or an organization, or b) an authority constituted under the Legal Services Act, 1987, c) a court annexed mediation centre, or d) any other body as notified, provided any of these are recognized by the for conduct of mediation proceedings under the Act. The mediation service providers are inter alia entrusted with a duty to accredit mediators and maintain a panel of mediators, provide all facilities such as secretarial assistance and infrastructure for the conduct of mediation proceedings, facilitate registration of mediated settlement agreements.
The Act introduces community mediation to resolve disputes which are likely to affect peace, harmony and tranquillity amongst the residents or families of any area or locality.  Disputes under this may be referred for mediation only with prior mutual consent of parties required.
The provisions of this Act shall have an overriding effect[19] for conduct of mediation or conciliation irrespective of anything inconsistent contained in any other law for the time being in force, and any instrument having force of law.
The Act has also amended/incorporated the Indian Contract Act, 1872, the Civil Procedure Code, 1908, Legal Services Authorities Act, 1987, Arbitration & Conciliation Act, 1996, Micro Small and Medium Enterprises Act, 2006, Companies Act, 2013, Commercial Courts Act, 2015 and Consumer Protection Act to align it with the mediation framework.[20]
Conclusion
The Mediation Act is a revolutionary development in the realm of alternate dispute resolution as it establishes parameters for practice, elevates confidentiality, ensures enforceability. One may say that this piece of legislation has substantially reformed the mediation landscape by making it a more formal, efficient and harmonious mode to resolve disputes out of court.
---
[1] S.2
[2] S.4
[3] S.5
[4] S.6
[5] S.10
[6] S.13
[7] S.14
[8] S.15
[9] S.16
[10] S.18
[11] S.19
[12] S.20
[13] S.21
[14] S.27
[15] S.28
[16] Chapter VIII
[17] S.40
[18] Chapter X
[19] S.55
[20] S.58-65